In Las Vegas, a surprise car star was introduced by a new brand at Consumer Electronics Show this year. Byton is an interesting Chinese start-up and Carsten Breitfeld (a former BMW man) heads this brand. Byton Concept electric SUV was shown at this show along with other production versions of such famous makers as Tesla. This new production car is due on sales the next year, so consumers won't have to wait for too long. Its estimated price is $45,000. However, no right-hand drive car models are planned at this production stage.

Byton syv concept
A comparison of Byton Concept electric SUV with Tesla is the most pertinent, especially after looking inside the cabin dominated by a wide screen. A special Shared Experience display covers the entire dash width and its measures are 125cm/25cm. That's why Breitfeld refers this electric SUV as the first SIV or smart intuitive vehicle in the world.
Its screen can display many things, from video conferencing to navigation, and it's created to be shared with passengers. The car connects with different smartphones seamlessly and it has the in-built function of offering fitness advice and monitoring the driver's health. Besides, this concept car is keyless because it uses facial recognition and cameras to let you in. Another good thing is that personal preferences can be easily stored in the cloud and transferred to any Byton car.
The full specs of Byton Concept electric SUV:
It's interesting that the company talks a lot about a saloon based on the same platform and offering the same choice of motor and battery combinations. Level-3 autonomy is expected when a new Byton car will be launched in China next year. Only after that, it will be launched in the US and Europe in 2020, and the SUV will be prepared to be upgraded to its level-4 autonomy.
There is a potential for 5G connectivity and AI artificial intelligence can learn the habits and routines of drivers to make useful suggestions. A huge screen is easily controlled by hand gestures in addition to a special voice control on board. Drivers have a tablet-sized touchscreen ahead of a steering wheel and it allows them to control a Shared Experience display and all seat functions. Furthermore, there are special screens for rear passengers, and front seats can turn 12 degrees to create a shared space and make life more sociable.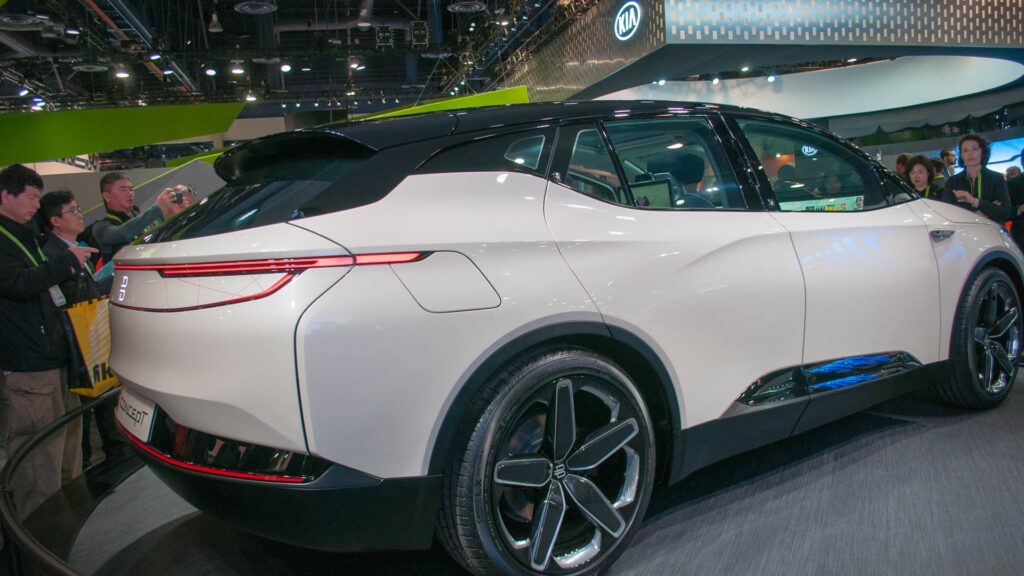 In this early concept car, its build quality is great and fits a premium tag to match a starting price. A final price will depend on the chosen version of this concept SUV. There are two basic options to choose from:
The one with a 71kW/h battery that produces 400Nm and 268bhp of torque through rear wheels;
A 4-wheel drive and dual-motor model that uses a powerful 95kW/h battery to produce 710Nm and 350kw.
Unfortunately, there aren't any performance figures provided, but Byton claims a range of 323 miles for a higher-powered version and 248 miles for the other one.
The design of this car isn't likely to change a lot during its production, so it's 90% accurate now. It has a sleek and long SUV shape with a high-set rear, floating roof, and high-tech Smart Surfaces. The model uses LED lights to communicate to pedestrians and other drivers. When it comes to UK consumers, they will definitely lack right-hand drive Byton models.
Specs of Byton
Think about the convenience offered by the trimmed leather seats that can be electrically swiveled to chat with a driver. Use a finger to benefit from a very accurate and intuitive gesture control system that executes different commands. The quality of graphics and screen of a Shared Experience display is impressive, especially for this large size.
Byton Concept Video