While the regular 718 Boxter is worth $57,050, the Porsche 718 Boxster S price accounts for $69,450. Do you wonder what makes a difference in this case? The new Porsche 718 Boxster S fully pays off that extra money. Let's see here below.
First, let's look under the hood, as that's the place where the main difference predictably hides. Unlike the basic Porsche 718 Boxster powered by a 2-liter 300-horsepower powerplant, the fresh Porsche 718 Boxster S boasts a 2.5-liter 350-horsepower engine. The given powertrain turns to be more innovative and far more interesting in technical terms. With a turbocharger with variable geometry and indirect charge air cooling the new Boxter reaches 177 mph versus the regular version's top speed of 170 mph.
Review Porshe 718 Boxster S
Both motors are paired with a 7-speed robotic Porsche Doppelkupplung transmission or a 6-speed manual gearbox. On twisty roads, dry roads it's a real pleasure to throw the S roadster into the most desperate bends. The vehicle reacts instantly, smoothly and accurately – exactly what we expected from the updated wild Boxter.
Porsche 718 boxter s review
Fresh roadsters come with a reinforced brake system featuring 330 mm front and 299 mm rear discs. Moreover, the Porsche 718 Boxster is equipped with a braking system, previously employed on the Boxster S. As for the 718 Boxster S, its front axle makes use of 4-piston calipers from the 911 Carrera combined with thicker brake discs. However, customers are free to opt for optional brakes with cermet 350 mm wheels of increased thickness on all four wheels.
The mighty 718 Boxster S has round twin pipe branch pipes of the brushed stainless steel exhaust system. However, the car owner can order a catchy double-barreled sport exhaust of the larger caliber – it generates the most emotional sound.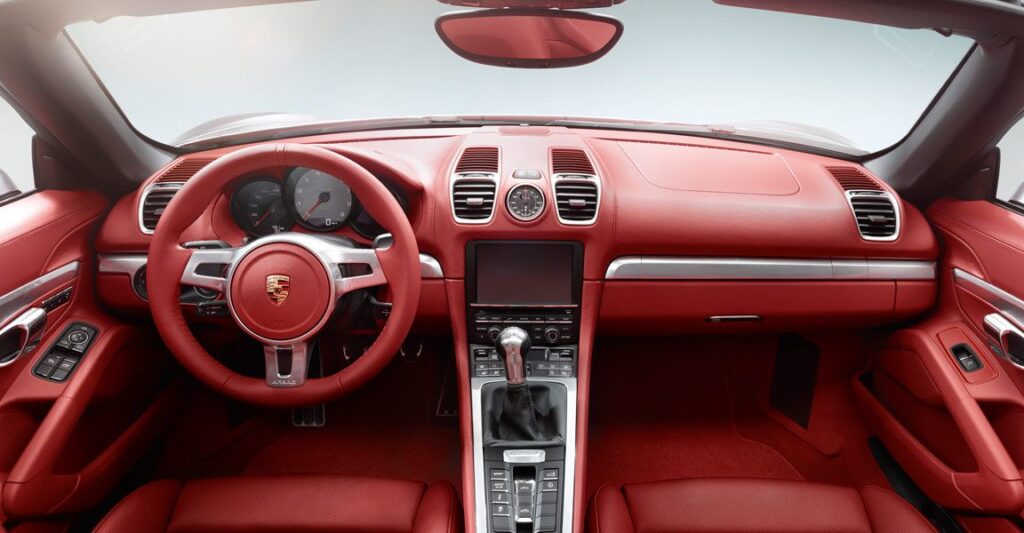 Inside, the 718 Boxster S greets us with an elegant steering wheel with manual height, fore/aft adjustment, revised A/C vents, Sound Package Plus sound system with 6 Speakers and 110 Watt output, climate control with integrated active carbon filter, new sport seats with responsive electric backrest adjustment, manual height and also position adjustment, to say nothing of a renewed instrument cluster. The steering wheel received fresh spokes as well as a new center section. Evidently, it looks more upscale and has much common with the one used in the 911. The car's gear lever and door handles are covered in leather, sharing the same color with the rest of car's interior.
Comparison of the Porsche 718 Boxster and Porsche 718 Boxster S
| | | |
| --- | --- | --- |
| | Porsche 718 Boxster | Porsche 718 Boxster S |
| Horsepower | 300 hp | 350 hp |
| 0 — 60 mph | 4.9 sec | 4.4 sec |
| Top Track Speed | 170 mph | 177 mph |
| Fuel Consumption City (estimate) | 21 mpg | 20 mpg |
| Highway (estimate) | 28 mpg | 26 mpg |
| Seating | 2 | 2 |
| Curb Weight | 2944 lbs | 2988 lbs |
| Fuel tank | 14.3 gal. | 16.9 gal. |